REGISTER TO THE EXCELLENCY CENTER®
PRESENTATION
At KEITAS SYSTEMS, we put innovation and quality at the heart of our services to make maintenance as simple as possible for you. We are the ideal partner for increasing the availability of your fleet and enabling you to control the maintenance process and operational costs. Our company has developed pioneering maintenance services: the Excellency Center  and the Tempeus® portal for worksite monitoring.
Being a customer at the Excellency Center®  means having access 24H/24 to a wide selection of services while enjoying the simplicity of a single point of contact. Hotline managed by Keitas Systems.
EXCELLENCY CENTER TIMEFRAME SERVICES
AOG support (24/7) & scheduled maintenance
Monitor work, approve estimates and dialogue with the 24/7 service center online through the Tempeus® portal
CAMO services
Pre-buy inspections
Consulting & audits

EXCELLENCY CENTER® MEMBERS
KEITAS SYSTEMS
World Trade Center Nantes Atlantique
16, quai Ernest Renaud
44105 Nantes Cedex 4

EMEAJET
Cargo Building PO Box 1081
CH-1211 Geneva 5 Airport
Switzerland​
MPLANES
Promenade du Mont Blanc 16c
1260 Nyon
Switzerland
EXCELLENCY CENTER® REWARD PROGRAM

Being an Excellency Center customer means joining a world of advantages.
Our Reward program
Earn EC-miles when using Tempeus within the Excellency Center®
100 EC-miles offered when joining our program
As a welcome gift in our program, the Excellency Center® offers you 100 EC-miles!
How to earn more EC-miles?
Earning EC-miles is easy. Each time you use Tempeus® within the Excellency Center®, you collect EC-miles.
How many EC-miles can you earn using Tempeus®?Earn 50 EC-miles each time you use Tempeus® for base or line maintenance work within the Excellency Center®.
Earn 200 EC-miles when using Tempeus® for a C-check within the Excellency Center.
Spending your EC-miles
Easily spend your EC-miles with our luxury gifts collection to choose from.
Donate your EC-miles to Unicef
You prefer to donate your EC-miles to a nonprofit organization?
KEITAS SYSTEMS has chosen the Unicef, which protect children around the world. 1€ will be given to Unicef for each EC-miles you donate.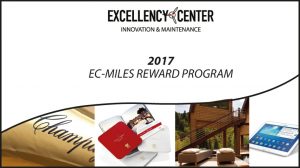 Contact us for more information.